Promoter of Science and His Hopes to Make Science more Fun
Hits : 423
Registration Date : 2020-10-05
Season of Reading
Promoter of Science and His Hopes to Make Science more Fun
Fun Biomedical Science & Understanding Children with Disabilities
Professor Lim Hyun-gyun (UST-Korea Research Institute of Standards and Science (KRISS) Campus)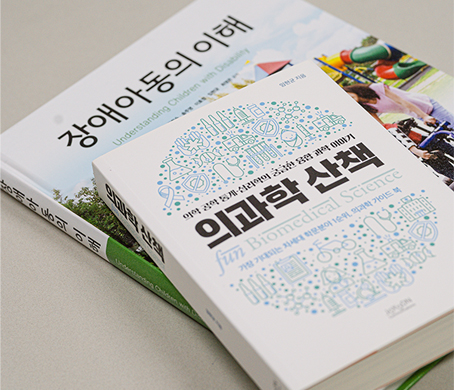 Professor Lim Hyun-gyun has been teaching at UST since 2005. One of the lectures he started is How to Make Good Presentations. It's open to public at UST, so a lot of people would probably be familiar with this lecture already. The class offers tips on how to be a better presenter that he deeply thought about and put together to overcome his stage fright during his studies in the United States. He wanted to share these tips with students who are afraid of public presentation. He continues to proactively engage in giving lectures and writing about science.
Introducing Two Books
Professor Lim published two books in 2018 and 2019 respectively: Fun Biomedical Science and Understanding Children with Disabilities. The first book, Fun Biomedical Science, talks about biomedical science in a way that anyone can easily understand. The second book, Understanding Children with Disabilities, is about understanding each disability, such as intellectual disability, autism spectrum disorder, brain lesion disorder and learning disability and how social policies and support for children with disabilities should change. Both books were selected in culture and academy section by Sejong Book of the Publication Industry Promotion Agency of Korea.

"I wrote
Fun Biomedical Science
because I think we don't really know anything about our own body. We have no idea how accurate medical devices are or how efficient drugs are. Without even knowing how our body works or what medical data means, when we see IBM Watson―artificial intelligence―talking about something, we think it's extremely outstanding and smart. I hope to bring my readers closer to the biomedical science, which is going to lead the future."
Meanwhile, Understanding Children with Disabilities shows what Professor Lim is recently passionate about. He finished his doctorate in biomechanics and medical engineering in the field of rehabilitation, and has been constantly conducting related research at KRISS. After he realized that there is not enough research in medical science and engineering for children as well as any research that can help understand children with disabilities, he has been focusing his energy into this particular field of study. The result of his hard work is this book. It will be a guidepost for those who would like to learn what kind of problems handicapped children have, how to approach these issues and how society has to change to support their future.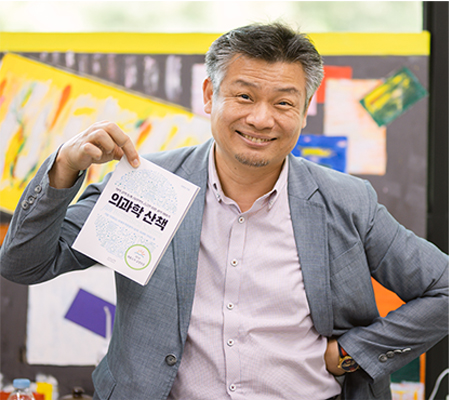 "I saw the desperate need for society's attention and support for children with disabilities, so I organized a foundation, Science and Technology Research Society for Children Movement, in collaboration with like-minded people. Since its establishment, we have been part of this group for 3 years. We have the goal to develop a platform for artificial intelligence-based early childhood disorder diagnosis in the future."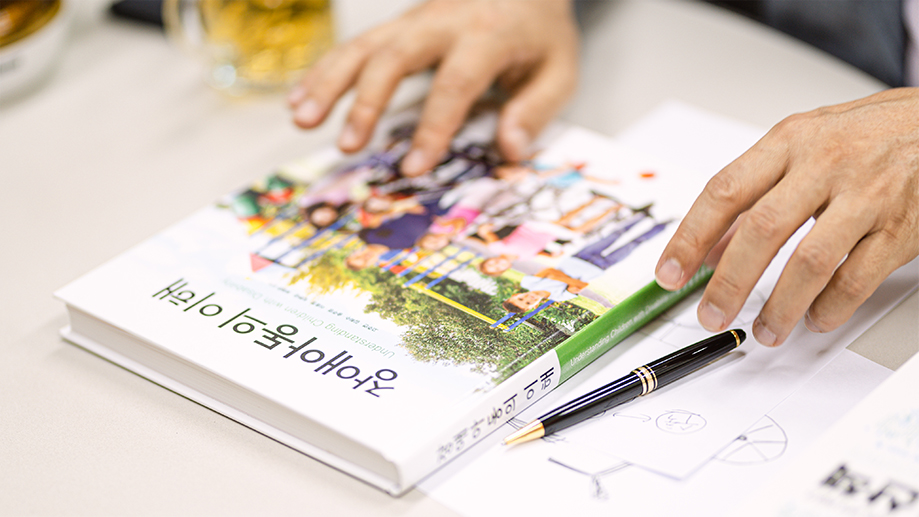 When we visited Professor Lim's office for an interview, we discovered something extraordinary: his office is filled with art work. He is not only a promotor of science but also an amateur painter. Every morning, he sends Musigi, meaning "a drawing story that I recklessly started", to nearly 2000 people. From drawing and writing to science, Professor Lim is interested in a variety of things, which he finds rewarding. We look forward to seeing where his science, drawing and writing will lead him in the future.
Pick: Take a Peek at the Book

[Favorite Phrases of Book by Author]
"We always wish to build a tight bond between parents and children, like BFFs. But when you think about it, regardless of age, best friends share a secret between themselves. It doesn't matter how big the secret is, because it's something they can relate to. They have a memory of traveling together or night-long conversations that aren't necessarily special. Nobody knows about it but themselves. While there is nothing wrong with hanging out in groups of three or four people, it's important to spend quality time between a parent and a child, just the two of them, to go on an adventure together. For the best experience and to build the best relationship. However, you shouldn't let anyone in that relationship. If dad is too busy, mom can help by having the child lead the trip."
Fun Biomedical Science
p. 413-418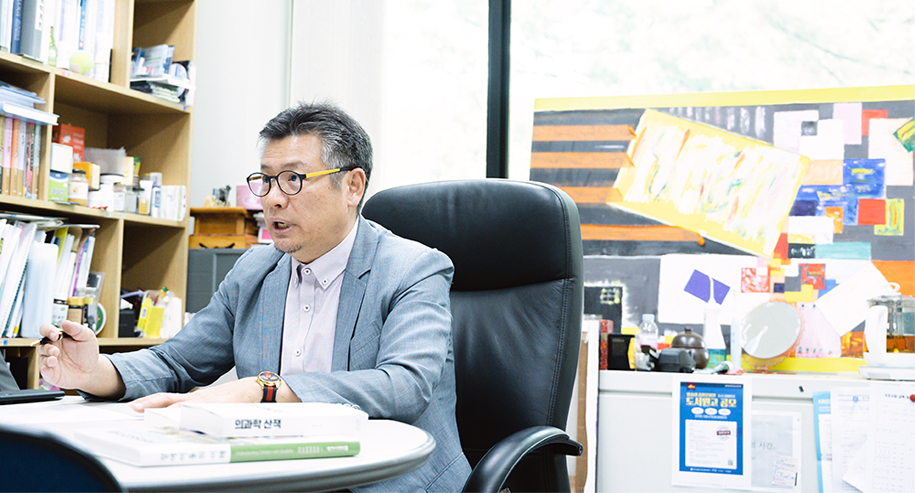 "I want to introduce relationship between people. In the family of three members, there are always three relationships. However, between two members, there is only one relationship. I think it tells something about life. When you are with more than three people, relationship can be quite complicated but between two people, it is taken seriously. As two people deeply build their relationship between themselves, it has a significant impact on each one's life. So when I speak of a relationship, I recommend trip between two people, like mom and child or dad and child. The time they spend together during the trip will form a new memory."

[Favorite Phrases of Book by UST Story]
"If we allow children with disabilities to enjoy what children without disabilities should have, it is an equal and fair society."
Understanding Children with Disabilities
p.58